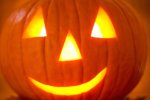 Did you know . . . There are some 36 million potential trick-or-treaters (children aged 5-13) in the U.S., according to the U.S. Census Bureau.
National Geographic News presents the facts on the history of Halloween, highlights this year's most popular costumes for adults and kids, and features fun stats on record-breaking pumpkins.
Click to get the white hat info you need to amaze your friends at this year's Halloween party!
Share your creative costume ideas by clicking the comments link below.